THEMATICS

This creation celebrates everyday life. The process for this creation came out of the pandemic. When bigger goals and plans were taken away from us over time, it became even more important for me to see, seek and strengthen the smaller joys of life that are still there. I took then this thematic with me after the pandemic as well. It is important to find ways to take care of yourself. Days can be hard, but there can be something good in every day and often we create them ourselves.

Small joys of everyday life does not solve it all, but it can help. In this piece you will see people navigate from a darker to a happier place through this focus and finding the joys that exist in everyday life.

---
HVERDAGSGLEDER

#acleanhouse #anicecoment #tomaangeagoal #hiking #goodcompany #morningcoffee #sale #niceweather #woolsocks #bonfireandgoodcompany #aniceconversation #aninterestingtvserie #cinamonbuns #tacofriday #chocolate #calmness #amessagefromhen #dancing #awalkwiththedog #theffelingaftertrained #goodnews #gifts  #creatingsomething #afunexperience #seeingsomethingnice #andmore

---
RESEARCH PHRASE 1.
The start: Thoughts for a pre-project started late autumn 2019 with a colleague and an application for founding was written.


Got A book: For christmas 2019 from dance-artist Linn Christin Aagedal. Here I wrote down 3 good things that happened or I saw every day for one year though 2020. Not the easiest year to do this. 



Zoom Course: Did a 6 session Zooom course with Davvi spring 21 where I, among other things, developed thoughts behind this project. Focusing on my interests, the audience needs, and the whys of the piece.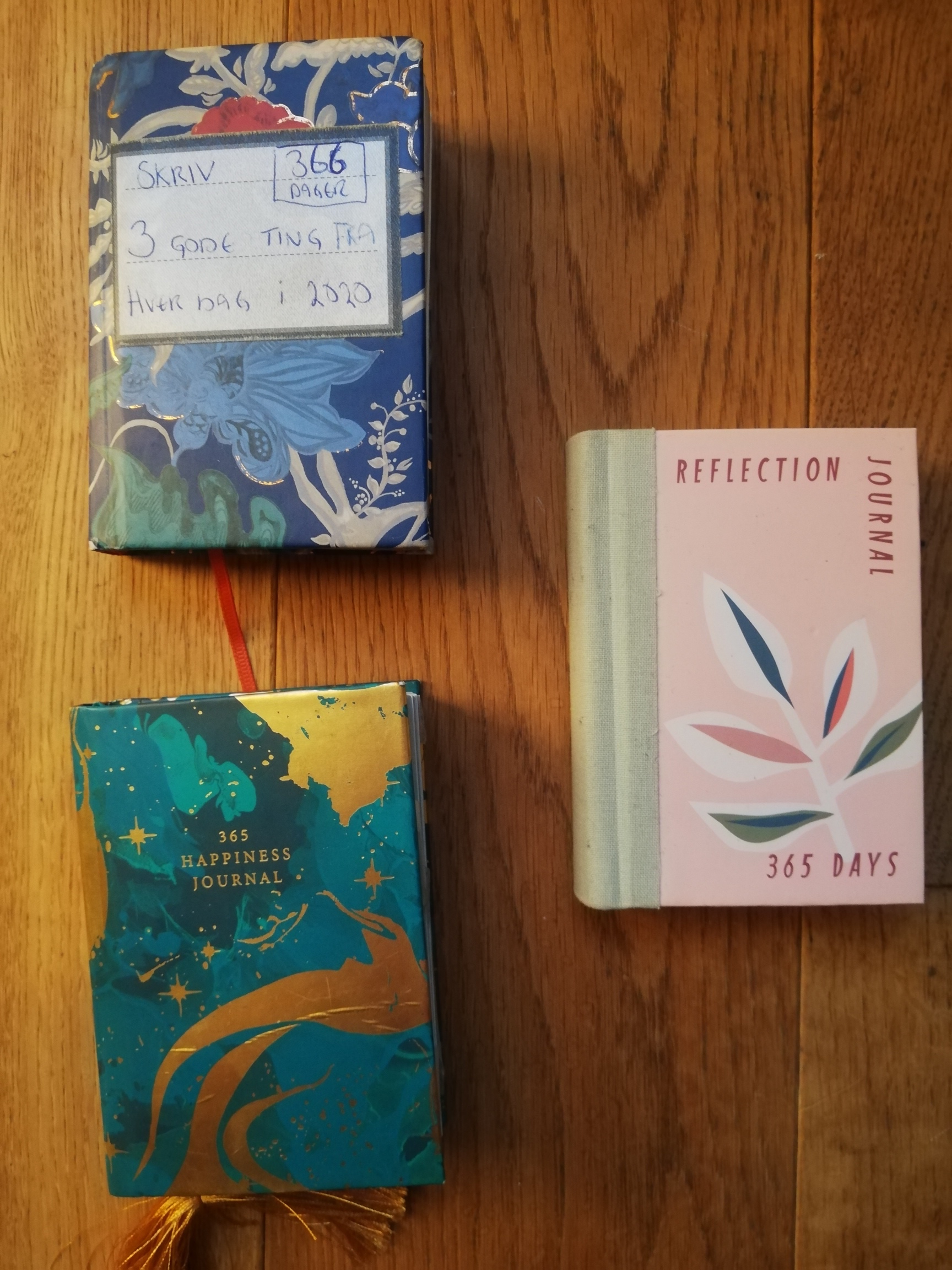 Pre- Project Week May 21.Founded by Trøndelag Fylkeskommune a pre project week happend with dance artist Linn Christin Aagedal.  A 25 min work in progress duett was shown to a small covid audience in Verdal.


Workshops: to Inderøy High School (where I started dancing at 16), Inderøy Kulturskole and Steinkjer kulturskole. Trying the concept at different ages, both improvisation, creating and set material. It was interesting to see how the different ages solved the tasks and their thoughts behind the thematic. I can now teach workshop in this thematic for all ages. 
Pictures from the pre-project:
Screenshots from the work in progress viewing. Photoshoot pictures by Rune Aasen, Verdal.
PERFORMANCES:
A 10 min version of the pre-project was shown august 21 at

19-21 i bevegelse

. For this presentation Linn and I mixed up the scenes, changed transitions, got new costumes and a light design.

The 10 min versjon was shown with Maria Risto Kippe and Eirin Rogdaberg Skimmeli at the show Veikryss april 22. We fitted the piece for three people, and they gave new insight to the creation through their thoughts.